Newsletters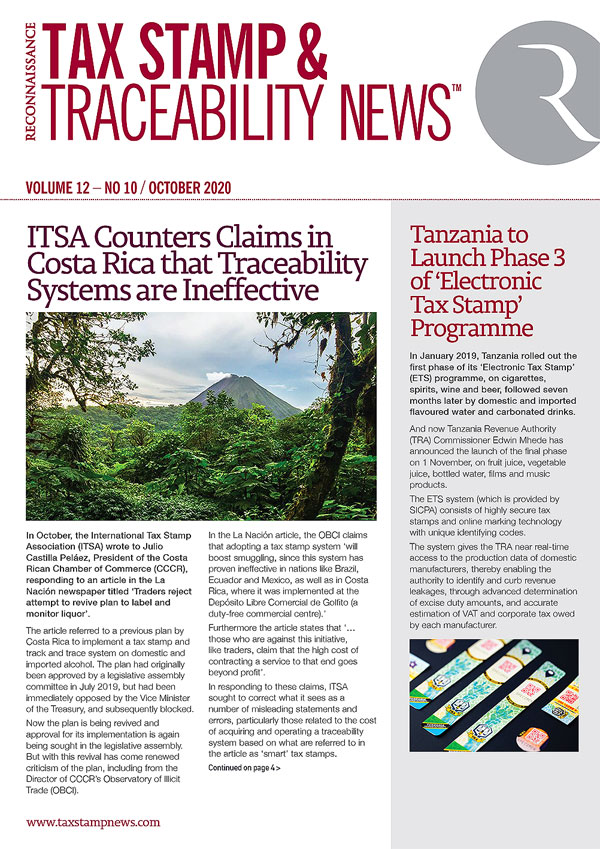 October 2020
ITSA Counters Claims that Traceability Systems are Ineffective
Tanzania to Launch Phase 3 of Tax Stamp Programme
University Reveals Lack of Transparency in Key EU Consultation
Guam Tax Agency Opposes Hiring Private Company
Europol Helps Close Down One of Holland's Largest Illegal Cigarette Factories
Company News
STOP Campaign Focuses on South Africa's Lack of Action
Illicit Trade Thrives During the Pandemic
New Tender for Nepal Tax Stamps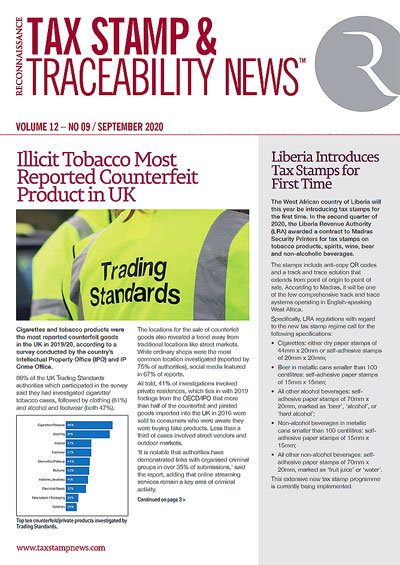 September 2020
Illicit Tobacco Most Reported Counterfeit Product in UK
Liberia Introduces Tax Stamps for First Time
Illicit Trade in Southeast Asia – Malaysia's Upgraded Tax Stamp Programme
News In Brief
Cannabis News In Brief
The Threat from Technology Insurgents
Writing an RFP For Tax Stamps and Traceability Systems
Cloud-Based Solutions Offer Greater Efficiency and Performance for Tax Administration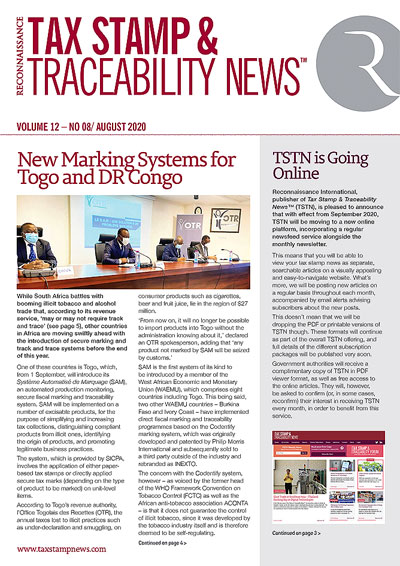 August 2020
New Marking Systems for Togo and DR Congo
TSTN is Going Online
New Tax Stamp Report Launching in September
Tax Stamps can Boost Government Finances in Post-COVID World, Says ITSA
Perum Peruri Responds to TSTN Article re Nepal Tender
Update on South Africa: Bans and Booming Illicit Trade, Exploiting Systemic Weaknesses
ASPA and GS1 India Sign MoU
Perspectives on the WCO 2020 Illicit Trade Report: Tobacco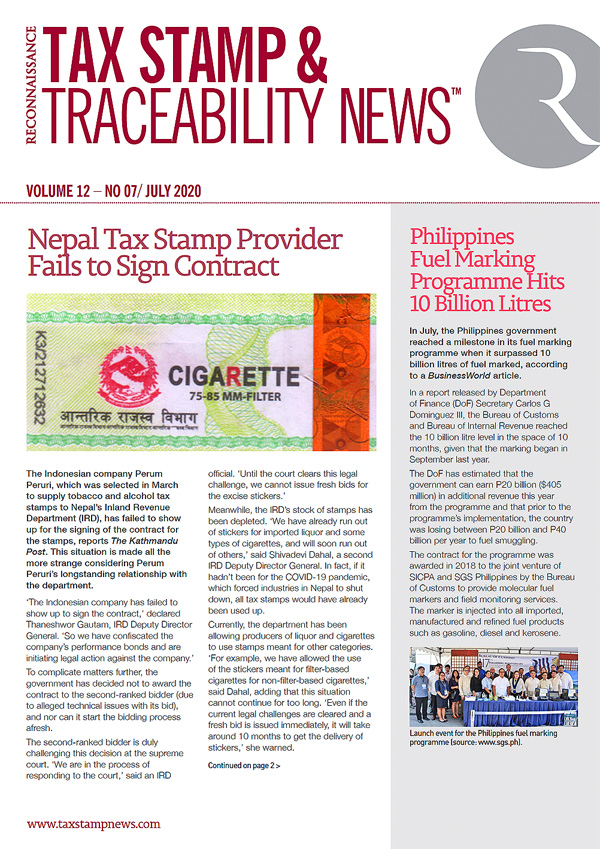 July 2020
Nepal Tax Stamp Provider Fails to Sign Contract
Philippines Fuel Marking Programme Hits 10 Billion Litres
Illicit Trade in Southeast Asia – Thailand Banking Big on Digital Technologies
Recent Developments in Document Biometrics for Tax Stamps
When Will the Cannabis Revolution Happen?
Blockchain and Excise Supply Chains: Hype, Conjecture and Reality
June 2020
Fuel Marking Scheme Boosts Mozambique's Tax Revenue
Beer Stamp Pilot Launched in Russia
ITSA Hits Back Over Tax Stamp Criticism
SICPA Wins Contract for Alcohol Excise Solution in Oregon
OpSec's Equinox: Technology Review
The Illicit Tobacco Trade in Southeast Asia – Vietnam
How Coronavirus will Likely Impact the Tax Stamp Industry…Continued
Newly Published Exposé: 'Dirty Tobacco'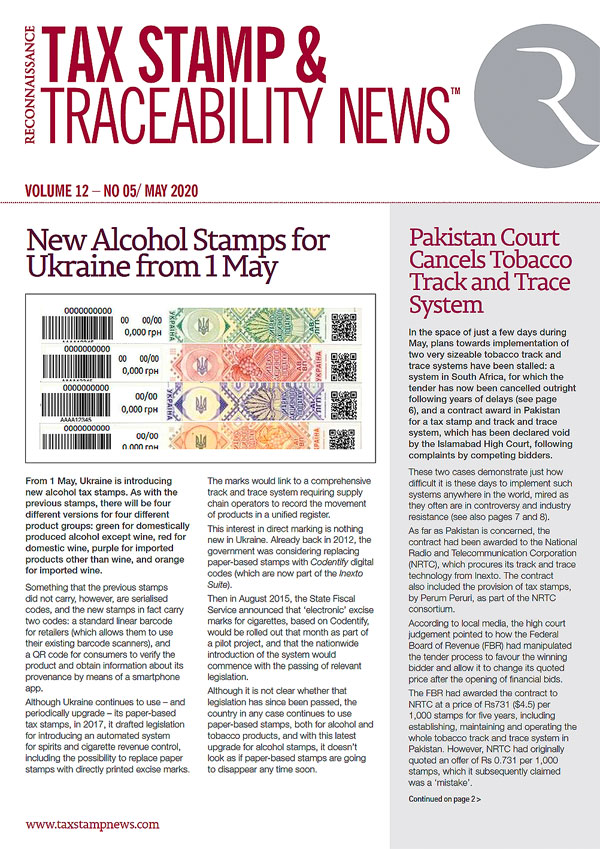 May 2020
New Alcohol Stamps for Ukraine from 1 May
Pakistan Court Cancels Tobacco Track and Trace System
SICPA Continues Talks with Turkmenistan
Tobacco Control Scale 2019 – Clarifying Details of Authors
Genuine or Fake? Roles and Responsibilities
Is It Justified to Increase Excise Taxes to Battle COVID-19?
South Africa: Illicit Trade is Booming
Watchdog Group Shines Light on Tobacco Industry Influence over Track and Trace
Data on Illicit Trends – A New Paradigm Needed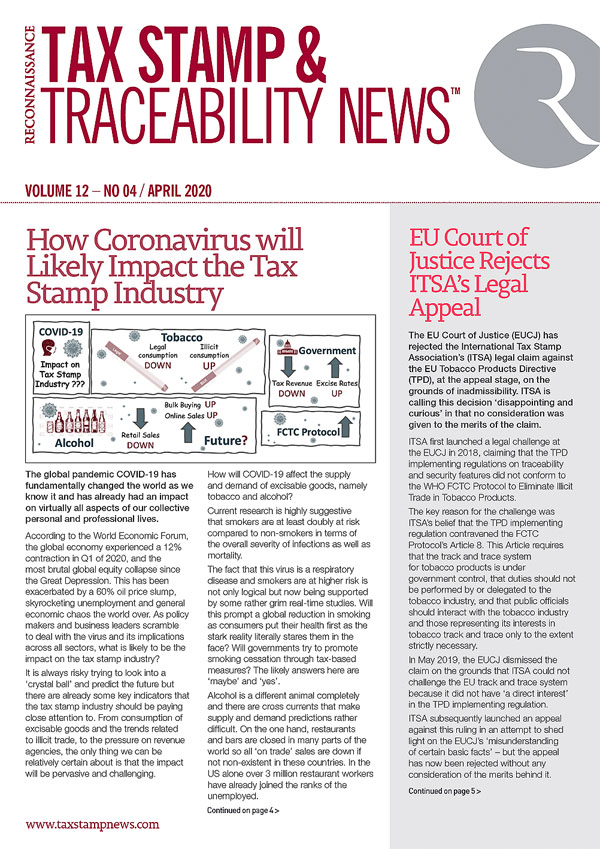 April 2020
How Coronavirus will Likely Impact the Tax Stamp Industry
EU Court of Justice Rejects ITSA's Legal Appeal
Authentication Label or Tax Stamp?
The Illicit Tobacco Trade in Southeast Asia – Laos
'Never Seen Before' Digital Security Features from HP Indigo and JURA
Tobacco Control Scale 2019
News In Brief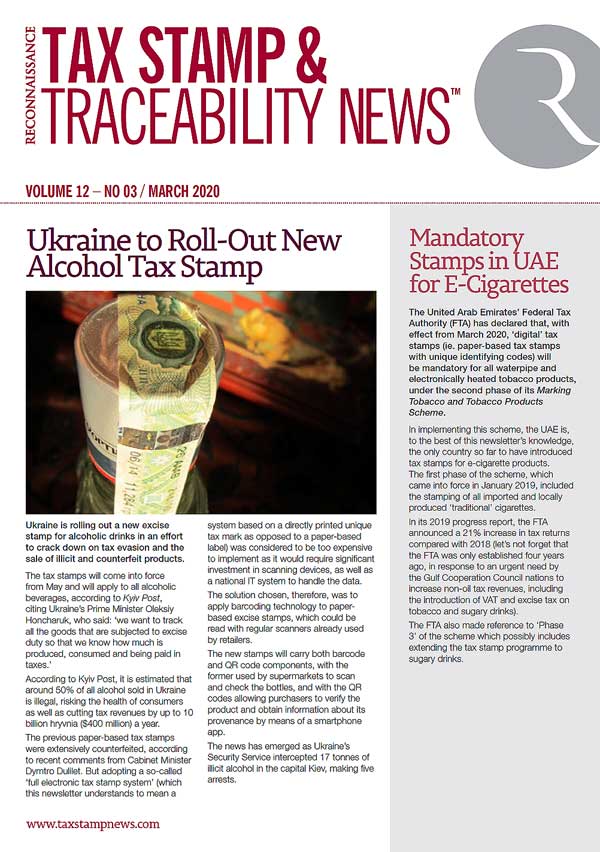 March 2020
Ukraine to Roll-Out New Alcohol Tax Stamp
Mandatory Stamps in UAE for E-Cigarettes
Can South Africa Afford to Be Losing $14 Million a Day to Illicit Trade?
The Future of Tax Stamps as Tools for ALL Government Agencies
The Illicit Tobacco Trade in Southeast Asia – Myanmar
ITSA Launches Tobacco Control System Blueprint
Perspectives on the Latest WCO Illicit Trade Report: Tobacco
February 2020
Blockchain Continues to Advance
Royal Joh Enschedé Wins Dutch Tax Stamp Tender
Beemit Develops Late-Stage Digital Print Technology that Can Even Print Through Cellophane
On the Record with De La Rue
News In Brief
South Africa: Some New Developments You Might Not Have Seen Coming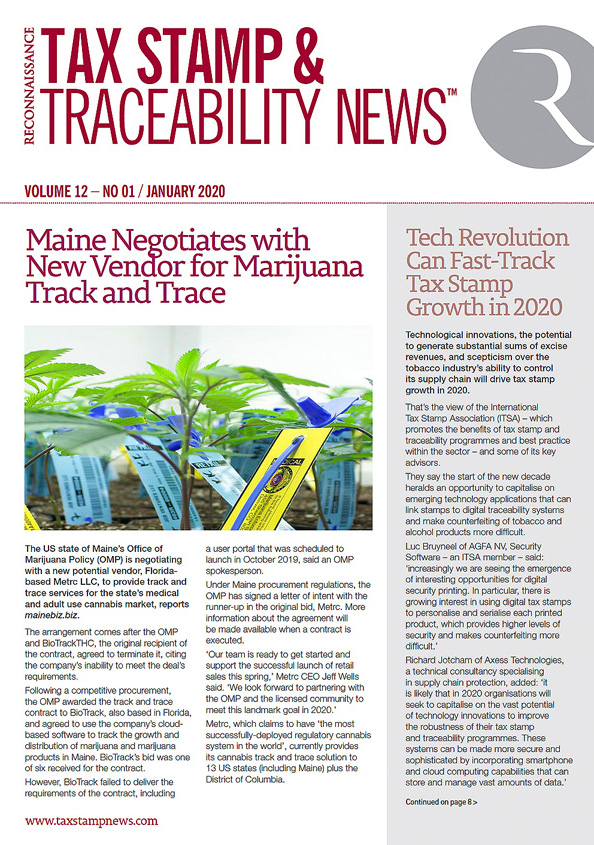 January 2020
Maine Negotiates with New Vendor for Marijuana Track and Trace
Tech Revolution Can Fast-Track Tax Stamp Growth in 2020
Are Tax Stamps Still Part of Russia's Plans for National Track and Trace?
Security Document Summit Shows Considerable Growth
The Illicit Tobacco Trade in Southeast Asia
How Ramón Chozas Increased Tax Stamp Productivity by 15%
Perspectives on the WCO 2019 Illicit Trade Report – Alcohol Products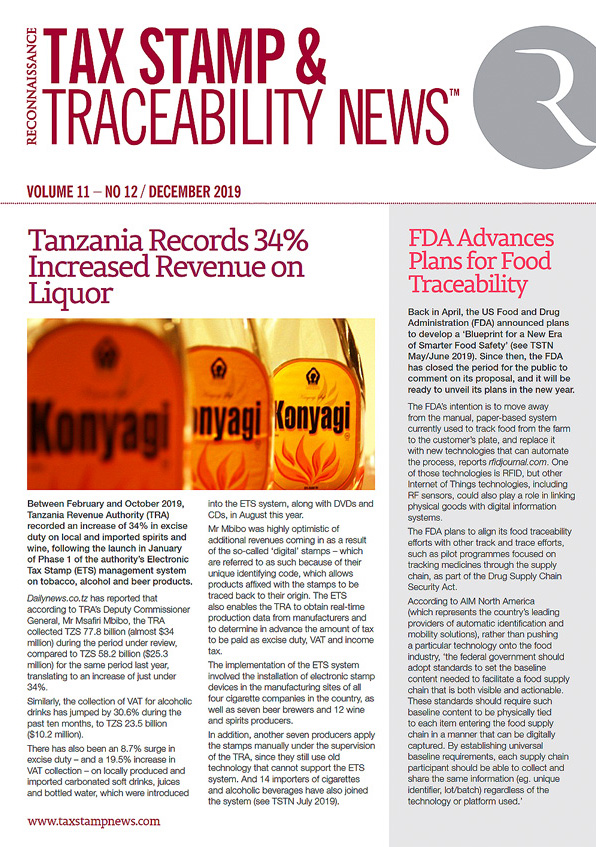 December 2019
Tanzania Records 34% Increased Revenue on Liquor
FDA Advances Plans for Food Traceability
STOP Issues Policy Brief on Protecting Track and Trace Systems from Tobacco Industry
FCA Issues Guidebook on Implementing Article 8 on Track and Trace
The Cost of Security
Headlines of 2019
Smuggling Rates Rise After Tax Increases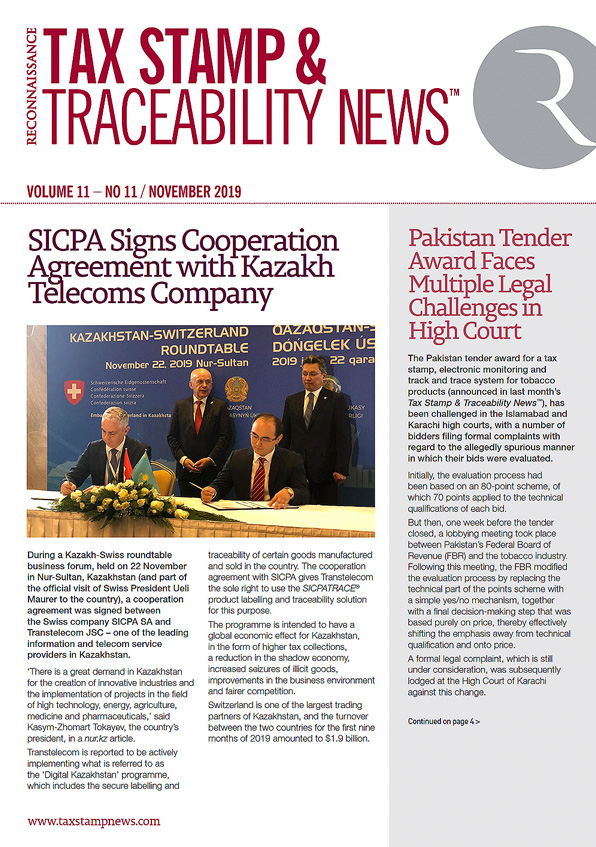 November 2019
SICPA Signs Cooperation Agreement with Kazakh Telecoms Company
Pakistan Tender Award Faces Multiple Legal Challenges in High Court
Save the Date for the 2020 Tax Stamp & Traceability Forum
Track and Trace Working Group for FCTC Protocol Launches in Panama
India Needs Comprehensive National Policy to Tackle Alcohol, Declares ASPA
New Tobacco Track and Trace System Bestows 'Digital Enforcement Powers' on Chile Revenue Authority
SICPA Launches its 'Brightest Star' for Secure Labels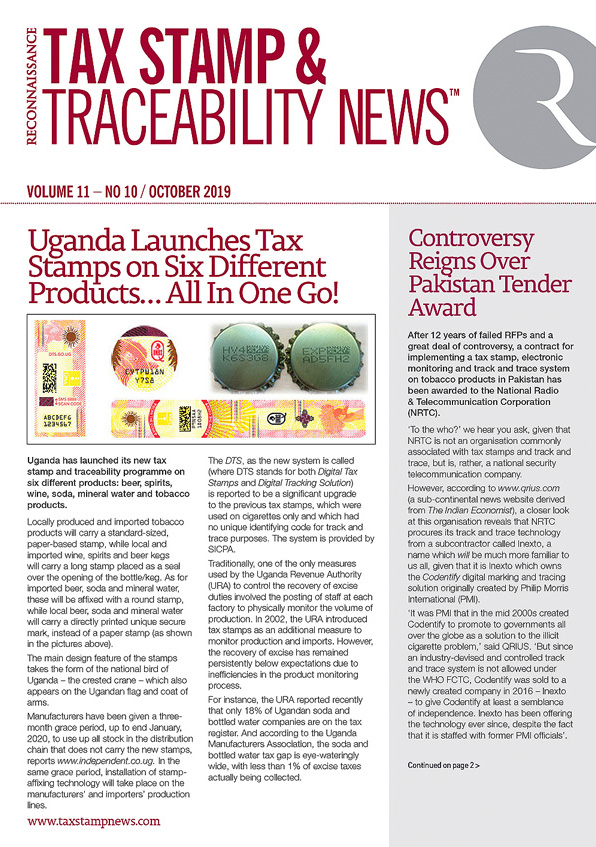 October 2019
Uganda Launches Tax Stamps on Six Different Products… All In One Go!
Controversy Reigns Over Pakistan Tender Award
Tobacco Industry Interference Index – What It Means for Secure Track and Trace
Graphi Mecc's Serialisation Equipment Offerings
INCM - Art to Machine Readable Coding
How Countries Around the World Charge Excise Taxes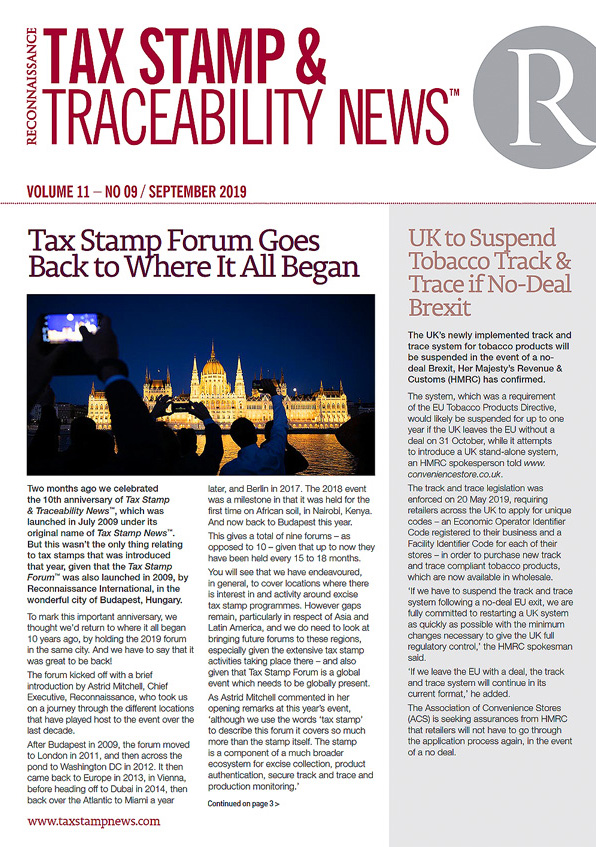 September 2019
Tax Stamp Forum Goes Back to Where it All Began
UK to Suspend Tobacco Track & Trace if No-Deal Brexit
The 9th Tax Stamp Forum in Quotes and Photos
The SARS Tender: Can an Agency in Turmoil be Both Agile and Prudent?
Human and/or Digital Interrogation of Tax Stamps
ITSA Appoints Three New Board Members
Cannabis News In Brief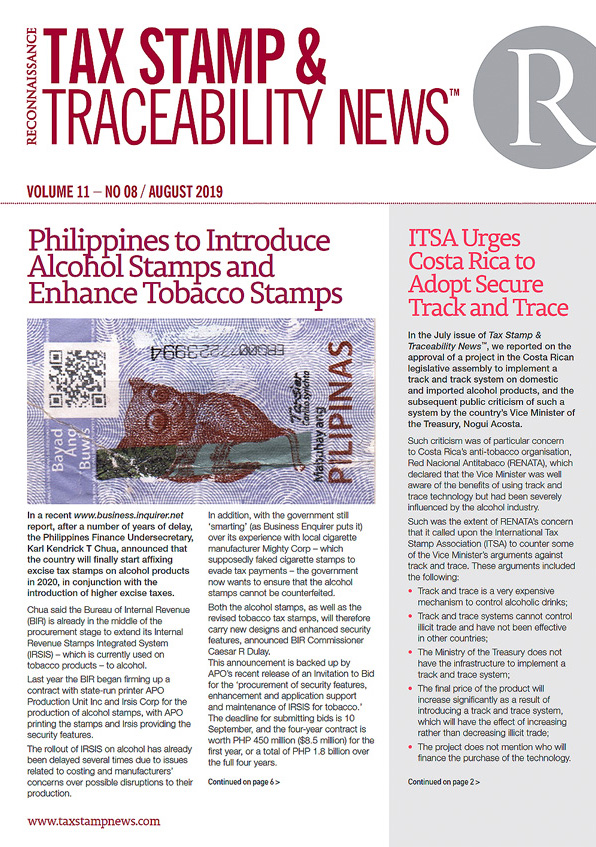 August 2019
Philippines to Introduce Alcohol Stamps and Enhance Tobacco Stamps
ITSA Urges Costa Rica to Adopt Secure Track and Trace
Tax Stamps and Secure Marks: Four Avenues to a Strategic Advantage
Cannabis and Smoke-Free Alternatives Take Centre Stage at FTA Meeting
Latest Developments in India
From the Archives
Counterfeit or Forgery?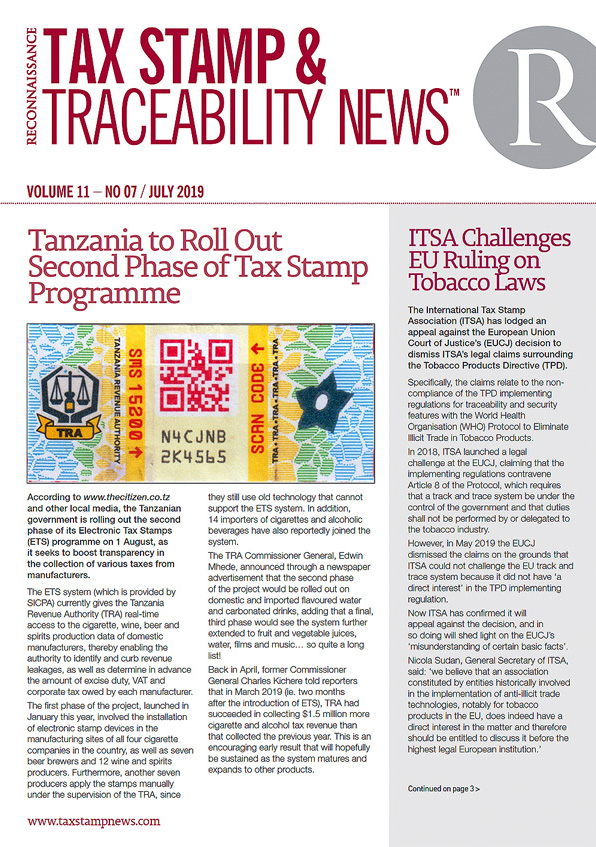 July 2019
Tanzania to Roll Out Second Phase of Tax Stamp Programme
ITSA Challenges EU Court Ruling on Tobacco Laws
Happy Birthday Tax Stamp News!
EU Tobacco Traceability Should Not be Considered Blueprint, Warns FCA
The New Luminescence
Coming in 2020… New Tax Stamps & Traceability Report
Kenya Sets Stage for New Water Tax
Security Print Software and Digital Print Open Doors in Tax Stamp Production
Arjo Solutions Expands into Latin America
The Rise of Public-Private Alliances in Latin America
UAE to Impose Tax Stamps on E-Cigarettes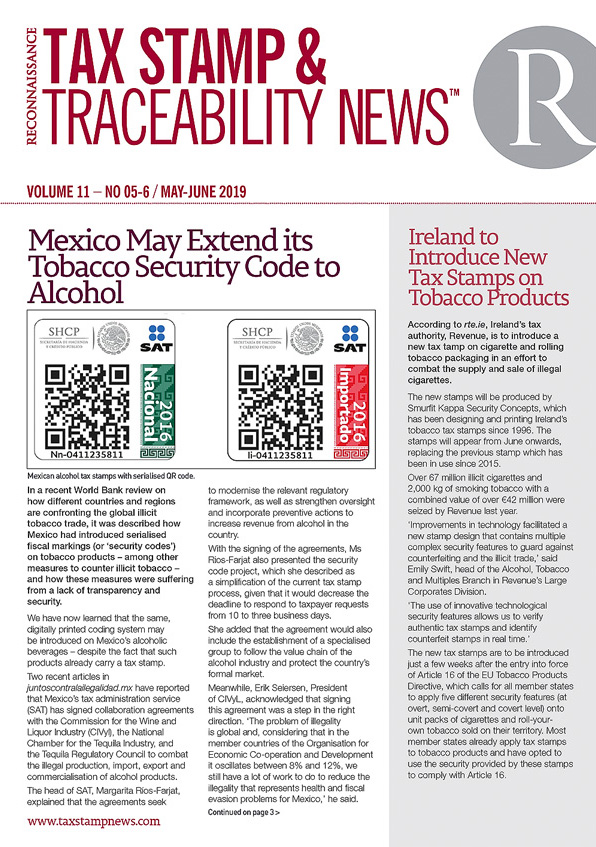 May/June-2019
Mexico Extends its Tobacco Security Code to Alcohol
Ireland to Introduce New Tax Stamps on Tobacco Products
Perspective on the New South African Track and Trace Tender
Competing Bid Stalls Nepal's Security Printing Press Deal with France
EU Criminal Network Linked to Illicit Tobacco… Busted
Dominican Republic Set to Launch New Tax Stamp and Traceability System for Cigarettes and Alcohol
Bruce DeBoer Returns to US Cigarette Stamping Machine Industry
Unique Codes – Beyond Authentication
Food Traceability News
Ashton Potter Enhances ProLinc Solution
Programme Announced for Tax Stamp Forum
Where Do Strange Words Like 'Contraband' and 'Banderol' Come From?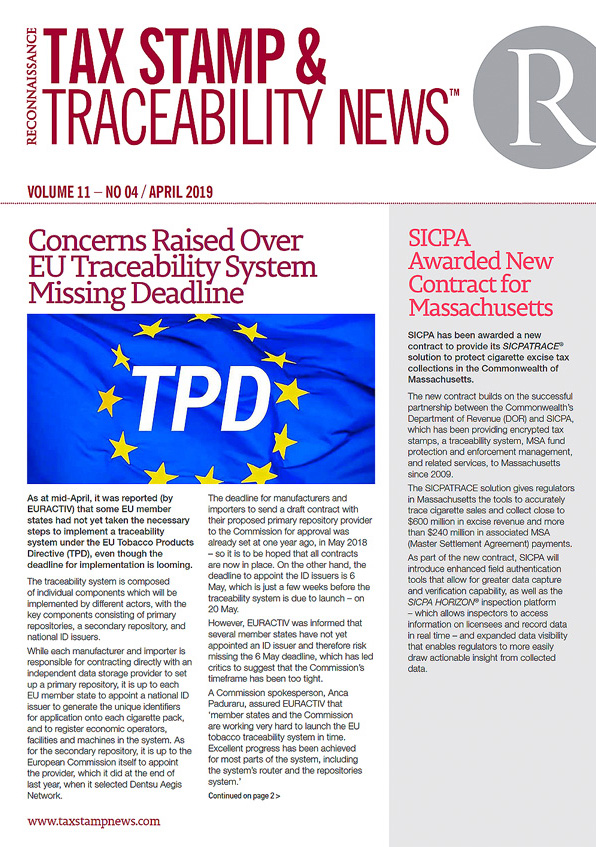 April 2019
Concerns Raised Over EU Traceability System Missing Deadline
SICPA Awarded New Massachusetts Tax Stamp and Traceability Contract
Legal and Illegal Tobacco Trade Often Intertwined, Claims Research
WHO Addresses Lack of Global Guidance on Healthcare Track and Trace
Authentix Plans for its SPS Acquisition
BIR Probes Recycled Tax Stamps in Philippines
How Georgia Reduced Illicit Tobacco from 50% to 3%... While Still Increasing Taxes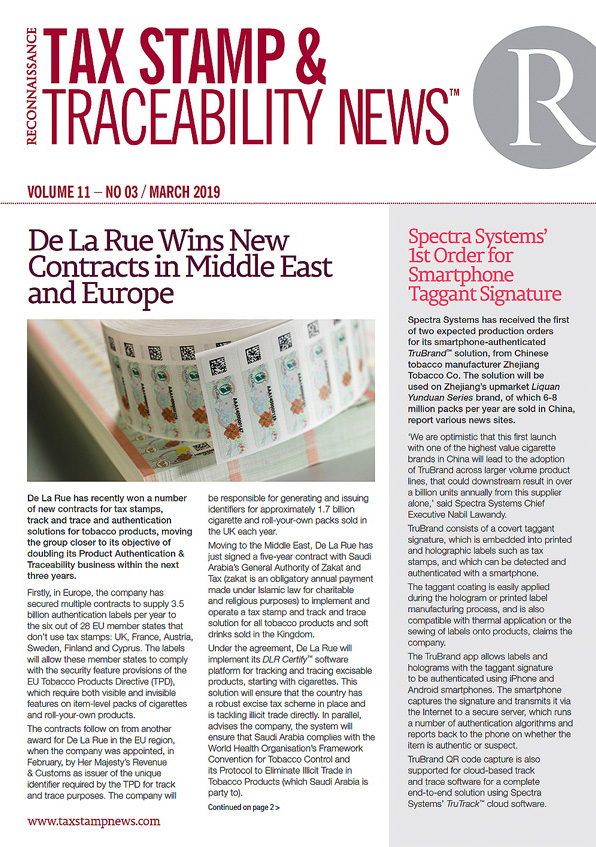 March 2019
De La Rue Wins New Contracts in Middle East and Europe
Spectra Systems Receives First Order for Smartphone-Authenticated Taggant Signature
What Exactly is a Blockchain-Based Excise Stamp Replacement System?
News in Brief
The State of Illicit Cigarettes in Sri Lanka
India's Recent Hooch Tragedy Confirms TSTN's Concerns
Seeing is Not Believing
Conference Feedback – Emerging Smartphone Technologies
News from East Africa: Kenya Wins Praise, Tanzania Rolls Out New Programme… and Uganda is Next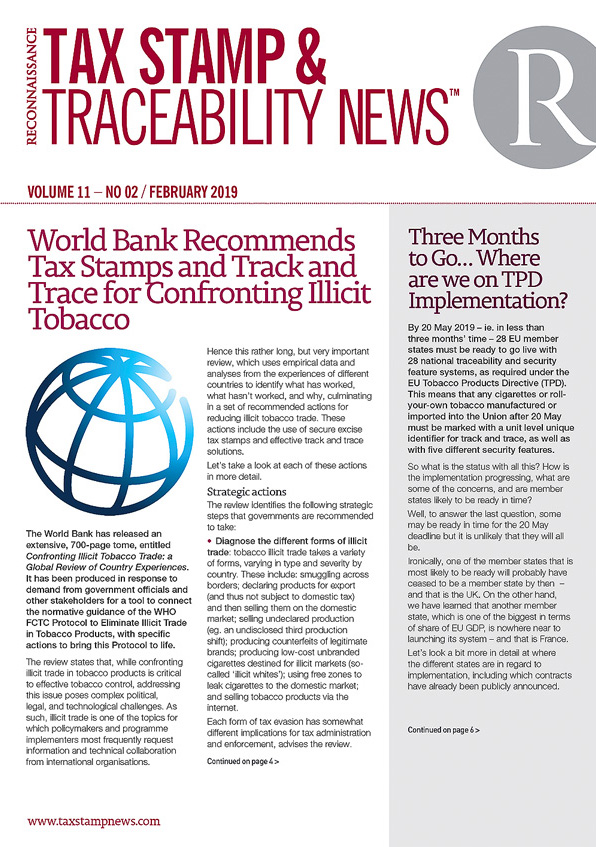 February 2019
World Bank Recommends Tax Stamps and Track and Trace
Three Months to go… and where are we on TPD Track and Trace Implementation?
FDA Looks to Pilot Projects to Enhance Pharma Track and Trace
PragmatIC Announces First Products in ConnectIC Family of Flexible Circuits
The Latest from Ghana – Textiles and Fertiliser
Ashton Potter Releases ProLinc Traceability Solution
Conference Feedback – Emerging Print Technologies